A new species of lizard doesn't come along every day. Even less common is a new lizard species named for a 1960s rock star.
But that's exactly what University of Iowa paleoanthropologist Russell Ciochon and his co-authors reveal in an article published in the June 5 issue of the journal Proceedings of the Royal Society B.
The lizard was a plant-eater, like present-day iguanas, that lived in the jungles Southeast Asia about 40 million years ago. At some 60 pounds and six feet in length, the lizard was one of the largest of its kind –- making it a veritable "king" of land-dwelling lizards.
As for the name, "Barbaturex morrisoni," the researchers say it just fit.
"Barbatus" is from the Latin, which means "bearded," and "rex," means "king" –- so the name refers to the presence of ventral ridges along the underside of the mandible, as well as the giant size of the lizard, says Ciochon (pronounced sha-HAHN).
"The species name honors vocalist Jim Morrison," Ciochon says. "We did take some liberty in naming the new species after rock legend Jim Morrison, who is known as the 'Lizard King.'"
Lead author Jason Head of the University of Nebraska-Lincoln says, "I was listening to The Doors quite a bit during the research. Some of their musical imagery includes reptiles and ancient places, and Jim Morrison was of course The Lizard King, so it all kind of came together."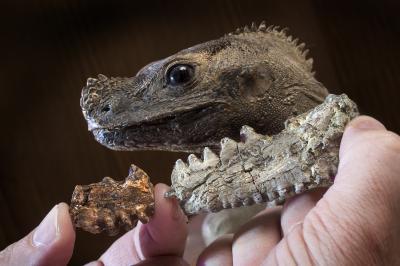 This image shows a small portion of the jawbone of Barbaturex morrisoni.
(Photo Credit: (Photo: Craig Chandler, University of Nebraska-Lincoln, University Communications.))
Ciochon says the lizard itself was a product of its times, evolving about 40 million years ago when the climate was as much as 9 degrees Fahrenheit warmer than it is today. A warmer and moister environment would have encouraged the growth and evolution of subtropical vegetation, which would have provided resources allowing for larger reptiles and mammals. Likewise, it was probably climate change and cooler temperatures that altered the food supply and led to the eventual extinction of Barbaturex morrisoni, he says.
"Species that are adapted to narrow niches often go extinct when the niche changes or disappears completely," Ciochon says.
Surprisingly, the research that resulted in Barbaturex morrisoni almost never came about because the discovery is based upon fossils that Ciochon helped find some 35 years ago in Burma and which had been stored in California for decades.
"The fossils were found on Dec. 25, 1978, on my second expedition to Burma (Myanmar) at the beginning of my career," says Ciochon.
Ciochon and University of California, Berkeley, Professor Donald E. Savage, who died in 1999, collected many vertebrate fossils, including the primate fossils that were the focus of their expedition. The lizard fossils were stored in the University of California Museum of Paleontology and forgotten until about 15 years ago when another trip to Burma caused Ciochon to remember them. Eventually, Ciochon and colleagues contacted Jason Head of the University of Nebraska-Lincoln and requested his help in describing the find.
When Head first examined the fossils (a total of 10 specimens of the same species), he noticed the creature's bones were characteristic of a group of modern lizards that includes bearded dragons, chameleons and plant-eaters like spiny-tailed lizards.
Head says: "I thought, 'That's neat. Based on its teeth, it's a plant-eating lizard from a time period and a place from which we don't have a lot of information.' But when I started studying its modern relatives, I realized just how big this lizard was. It struck me that we had something here that was quite large, and quite unique."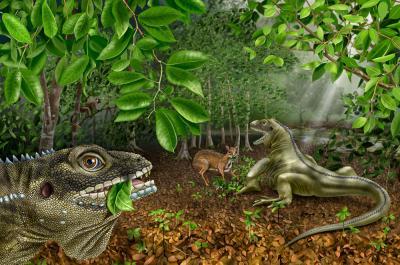 This is an artist's conception of the giant lizard, Barbaturex morrisoni.
(Photo Credit: : Angie Fox, Nebraska State Museum of Natural History, University of Nebraska-Lincoln.)
Source: University of Iowa