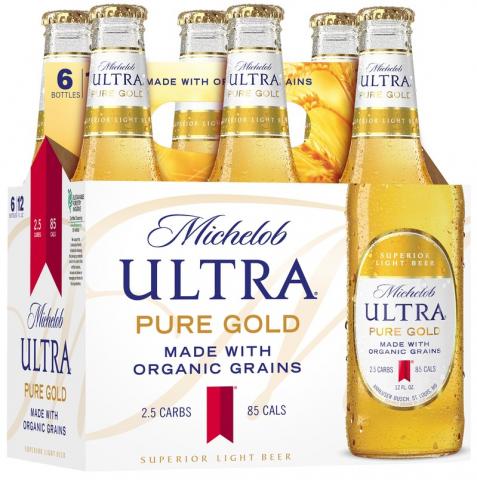 Michelob ULTRA has announced Michelob ULTRA Pure Gold, which is made with organic grains but still has only 85 calories and 2.5 carbs. Like Michelob ULTRA, the new brew will also be free from artificial colors and flavorings. The brand's sustainable efforts extend to the packaging, having received the Sustainable Forestry Initiative stamp of approval.
Anheuser-Busch say the new product is aimed at millennials who have been brought up with concerns about GMOs and claims that organic food is more nutritious - even if it's beer. However, this is primarily a marketing hook. The Food and Drug Administration, which is already suspect because industry lobbyists and activists from organic corporations control the National Organic Standards Board, is not allowing them to use an organic certified seal. However, it is expected that the Non-GMO Project, which sells stickers to corporations if they certify their products have GMOs - even if they can't be GMOs, like with rock salt - will eventually give them a certification.
"We're proud to be a brand for consumers who balance their healthy, active lifestyles while also being able to enjoy beer. We know organic ingredients are important, and with Michelob ULTRA Pure Gold we're able to provide a new beer with a unique golden look and taste," said Azania Andrews, vice president, Michelob ULTRA. "We're tapping into the occasion of spending time outdoors with friends and soaking in the same nature that inspired our new brew—a time we're referring to as Pure Golden Hour."