E-readers are more effective than reading on paper for some with dyslexia, according to results published September 18 in the open access journal PLOS ONE by Mathew Schneps from the Harvard-Smithsonian Center for Astrophysics and colleagues from other institutions. Their results suggest it is the use of short lines on the display, and not the device itself, that leads to the benefits observed in this study.
For the study, the authors compared reading comprehension and speed on paper versus that on e-readers in over 100 dyslexic high school students. They found that those who struggled most with sight-word reading read more rapidly using the electronic device than they did on paper. Students with limited visual attention spans had better comprehension of the text on e-readers than they had on paper. The results suggest that short lines with fewer words, as displayed on e-readers, may help some dyslexic readers focus on individual words by removing additional, potentially distracting text on the same line.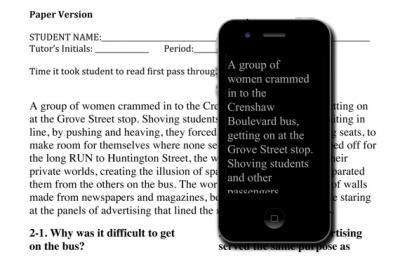 In the paper condition students read passages from the Gates-MacGinitie Reading Tests and answered multiple choice questions as shown. In the iPod condition the reading passage was displayed on the iPod (scrolled vertically using a finger on the touchscreen) and questions were answered on paper, as in the paper condition, except that the text passage was not displayed. Following standard protocol for this test, students were allowed to re-examine the text when answering questions, in both conditions.
(Photo Credit: Schneps MH, Thomson JM, Chen C, Sonnert G, Pomplun M (2013) E-Readers Are More Effective than Paper for Some with Dyslexia. PLoS ONE 8(9): e75634. doi:10.1371/journal.pone.0075634)
Source: Public Library of Science