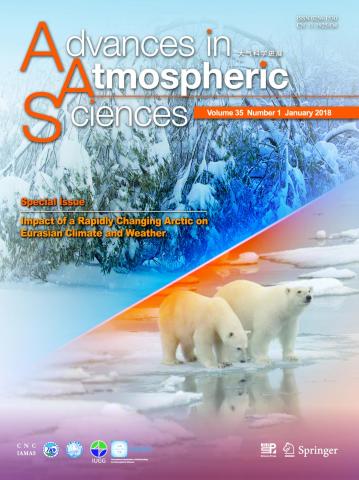 Image credit:
Advances in Atmospheric Sciences
There's controversy in climate change research--not whether climate change exists, but how the evidence is gathered and used to inform predictions. To help bring convergence to the field and potentially accelerate action, a special issue of the Advances in Atmospheric Sciences is highlighting recent scientific work.
"Our understanding of Arctic-midlatitude linkages is still at a pre-consensus stage," said Thomas Jung, a professor of climate dynamics at the Alfred Wegener Institute Helmholtz Centre for Polar and Marine Research in Bremerhaven, Germany. He also co-authored the issue's preface as a guest editor. "...it is important, therefore, to bring together the latest research results."
Titled, "Towards improving understanding and prediction of Arctic change and its linkage with Eurasian mid-latitude weather and climate" ---or "Impact of a Rapidly Changing Arctic on Eurasian Climate and Weather" for short---the special issue focuses on understanding how changes in the Arctic influence the mid-latitude regions of the globe. These areas sandwich the central tropical region. They are capped by the Earth's poles, and include Europe, most of Asia, north Africa, and much of North America.
While the increased near-surface temperature of the Arctic and the significantly decreased sea ice are undisputed facts, the link between such changes and the extreme climate and weather events in the mid-latitudes is still debated.
"The results published in the journal further present where divergence occurs," said the lead editor of the special issue and preface co-author Xiangdong Zhang, a professor at the International Arctic Research Center at the University of Alaska Fairbanks in the United States. Zhang noted that this knowledge will help scientists identify areas in need of collaborative work.
The special issue includes observational results and modelling work on the problem of Arctic and Eurasian climate links, yet the work does not yet clarify the correlation. According to Zhang, areas of progress include the use of different prediction models, an increased data sample size with the help of coupled model simulations, as well as more focus on regional linkages. The entire Northern Hemisphere was examined, rather than distinct zones.
"An important aspect of this special issue is that the problem is considered from different perspectives, including weather prediction," said Jung, who also chairs the Year of Polar Prediction. The global initiative, under the guidance of the World Weather Research Programme, aims to support collaborative research that will lead to better climate and weather predictions.
"The research presented in this special issue was carried out during what we call the preparation phase of the Year of Polar Prediction," said Jung. "It will have a significant influence on the research activities during the core phase, which started in May of this year and... will run until June 2019."
With the lack of convergence, the authors call their fellow scientists to action. With more global participation in the field, and better coordinated efforts between researchers, consensus may be reached.
Credit:
Institute of Atmospheric Physics, Chinese Academy of Sciences