New Rochelle, NY, April 3, 2012—Three-dimensional clusters of pancreatic beta-cells that live much longer and secrete more insulin than single cells grown in the laboratory are valuable new tools for studying pancreatic diseases such as diabetes and for testing novel therapies. This cutting-edge advance is described in an article in Tissue Engineering, Part C, Methods, a peer-reviewed journal from Mary Ann Liebert, Inc.. The article is available free online at the Tissue Engineering website.
"Finding a solution for the culturing and final transplantation of pancreatic cells will be an enormous breakthrough for the treatment of diabetes," says John Jansen, DDS, PhD, Methods Co-Editor-in-Chief and Professor and Chairman, Department of Periodontology and Biomaterials, Radboud University Nijmegen Medical Center, The Netherlands.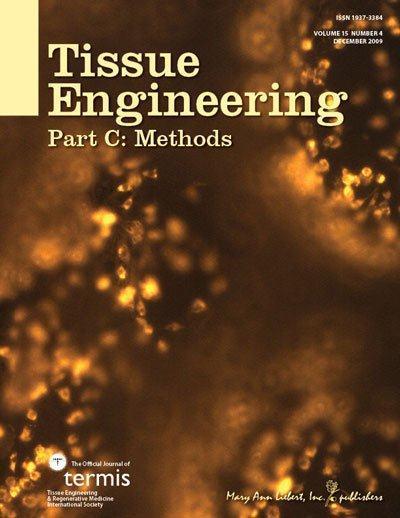 Tissue Engineering is the official journal of TERMIS. For more information visit www.liebertpub.com/ten.
(Photo Credit: ©2012, Mary Ann Liebert Inc., publishers)
Growing pancreatic cells in the laboratory is challenging, in part because to survive and function normally they require cell-cell contact. Abigail Bernard, Chien-Chi Lin, PhD, and Kristi Anseth, PhD, University of Colorado at Boulder, and Indiana University-Purdue University at Indianapolis, developed an innovative method that uses photolithography to create microwell cell culture environments that support the formation of 3-D pancreatic beta-cell clusters and control the size of the cell aggregates. They describe the ability to remove these cell clusters from the microwells and encapsulate them in hydrogels for subsequent testing or implantation. They present their work in the article "A Microwell Cell Culture Platform for the Aggregation of Pancreatic Beta-Cells."